RUP «Vitebskenergo» postroilo novyy zhiloy dom dlya rabotnikov energosistemy 76/5000 RUE "Vitebskenergo" built a new residential building for power system employees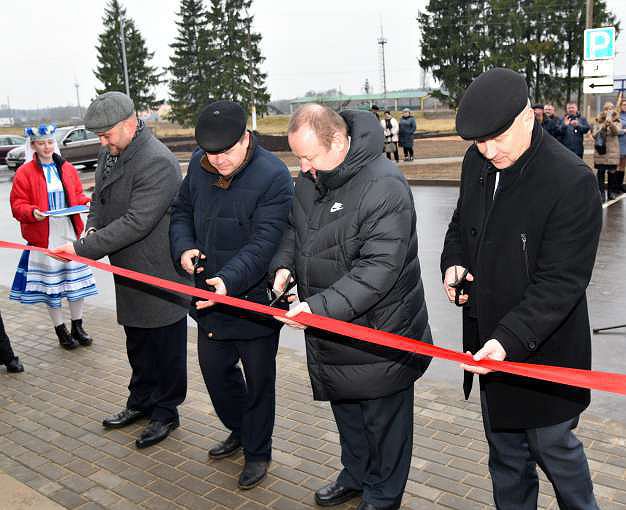 On December 24, in a festive atmosphere in the village of Orekhovsk, Orsha district, the opening of a new residential building for employees of the energy system took place.
The construction of a five-story 40-apartment building began in May of this year. The house was built in a short time at the expense of RUE "Vitebskenergo" own funds, there are one-, two- and three-room apartments. Each of them provides for the complete decoration of all rooms, the kitchens are equipped with electric stoves, the loggias are glazed. Near the house there was a playground, as well as ample parking.
Rental housing in the new house is in great demand, the apartments will be provided to employees of the branches of the Belarusian State District Power Station and the Teplichnyi in need of better housing conditions.
In a festive atmosphere, the general director of RUE "Vitebskenergo" Mikhail Luzin personally congratulated future residents of the new house on this significant event. He wished happiness, prosperity and prosperity to every home. Mikhail Vladimirovich noted that the enterprise is currently actively working on modernization, expansion of production capacities, and the creation of new industries with new jobs. A vivid example in Orekhovsk is the Teplichny branch, where a shock freezing workshop for vegetables was launched this year, and a new robotic dairy farm for 1210 cattle was put into operation. And they are not going to stop there. Therefore, the process of attracting staff and securing it in the workplace is very important. And the opportunity to get housing while working in this village will undoubtedly contribute to the solution of personnel issues.
Administrative Procedures
Connection to the Electric Power Supply System