At the Vitebsk TPP, work has been completed on replacing the drum at the boiler unit of station No. 3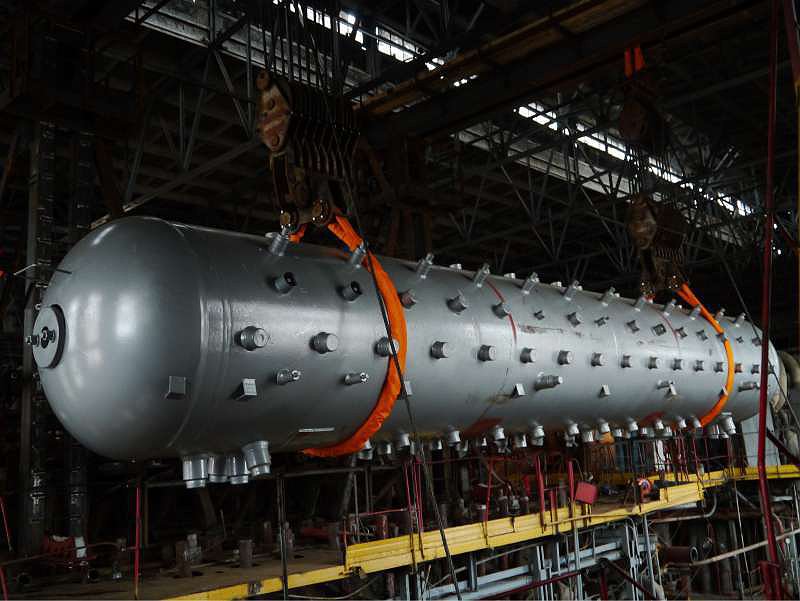 At the Vitebsk CHP branch, work has been completed on replacing the drum at the boiler unit BKZ-160-100F station number 3. On December 11, an act of putting the capital construction object into operation was signed.
At the moment, the boiler unit No. 3 has passed acceptance tests and performs its main task: it carries a nominal steam load.
The previously operated drum was manufactured by the Barnaul boiler plant in 1960; in August 1961, it was mounted and put into operation at the Vitebsk TPP. Power engineers made a decision to replace the spent equipment.
The project was developed by the specialized organization Belenergoremnaladka OJSC. She also acted as a general contractor in carrying out a set of technical measures (manufacturing of spare parts, preparing a project for the production of works, construction and installation works). Complex dismantling of spent equipment was performed. The length of the new drum is 11.9 m, the height with fittings - 2.3 m, weight - 52 tons. Given this, in order to feed the drum to the project site, it was necessary to mount the flyover, test it for static and dynamic stability, make a technological opening, redirect the existing steam pipelines and cable products that intersect with the drum feed paths to the workshop. The new drum was made at the Taganrog boiler plant "Red Kotelshchik". At the same time, overhaul of the boiler unit at station No. 3 was carried out with the replacement of pipes of the rear screens, ceiling and 3, 4 stages of superheaters. During the implementation of this project, more than 60 people of engineering, technical and repair personnel of the Vitebsk TPP were involved.
The drum was mounted by a truck crane with a lifting capacity of 160 tons. In the process, a large number of specialists from contractors, special equipment, and equipment were involved. After successfully conducting hydraulic tests and examining the boiler unit with the bodies of the State Inspectorate for Supervision, specialists began commissioning, setting up instrumentation and automation, and training personnel.
For employees of the Vitebsk CHP branch, the implementation of this large-scale project has become one of the most significant events in the life of the team in recent years. Unique work was carried out in the Vitebsk power system for the first time, in the power industry of the republic the replacement of the drum at the boiler unit with a pressure of more than 10 MPa was performed for the second time. The main technical and economic indicators of the equipment remained the same, but the actions taken significantly improved its reliability. And this means that the main task of ensuring an uninterrupted supply of energy to consumers has been successfully completed.
Administrative Procedures
Connection to the Electric Power Supply System